Bag Slovakia – Black
$63,51
Description:
The aftermath of the First World War left many consequences, which concern us on this occasion is the separation and segregation of the Austro-Hungarian empire, leaving several nations as a result (which have had several changes since that time), including Slovakia.
After the outbreak of World War II, German troops invaded Slovakia and allied with the axis to fight, but movements emerged that confronted the regime that supported the Nazis.
This confrontation between guerrillas and the Slovak state sought to liberate the country from its ties to the Third Reich, but the uprising was quelled by the German army. Even so, the resistance did not abdicate and a couple of months later, already in 1945, the relentless march of the Red Army was decisive to end the German-Slovak relationship (all this under the premise of uniting czechia and Slovakia, -Czechoslovakia- to create a new socialist state that lasted until 1992).
This Bag commemorates all the warriors who fought to free their country from the clutches of German fascism.
Go out and face all your struggles with this backpack of great resistance, comfortable for your back and shoulders due to its size, which allows you to carry what you need for day to day.
Characteristics:
1 Internal pocket (13″ laptop)
4 outer pockets
Capacity: 6 Liters
Measures (cm): Height = 30; Width= 20; Background= 15
100% waterproof
Inspired by World War II
Payment methods: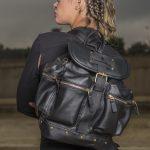 Bag Slovakia - Black
$

63,51
2 in stock